ABOUT DEBRA ROBERTS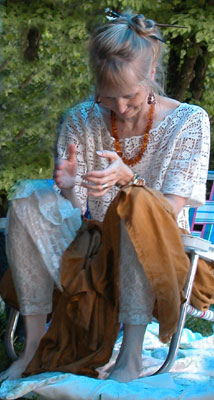 DEBRA ROBERTS is a natural (treatment-free) beekeeper and international honeybee educator, speaker, mentor, advocate, artist, and writer. She speaks on subjects like:
The Sacred Path of Bee: Beekeeping as a Sacred Practice
Natural Compassionate Beekeeping (half-day to 3-day sessions)
Love as the Ultimate Activism
Following the Bee Trail:  A Woman's Adventures on the Good Bee Road
100 Ways (and More) to Help the Pollinators
Women's Ways in the Apiary
Honeybee presentations for children.
Debra is Founder of Holy Bee Press, a bee mentor for Hamaatsa (an indigenous learning center in New Mexico), on the Advisory Board of The Center for Honeybee Research, Founder of The Honeybee Project, editor of a series of ongoing articles about honeybees and natural beekeeping, and received her Master Beekeeping certification in 2010. She was highlighted as one of the Bee Luminaries in 2015 and chosen as one of the Heroes of Asheville in 2014. Debra also created the online series, The Sacred Path of Bee for bee appreciators worldwide. She mentors new beekeepers by email, Skype, phone (and where possible, in person). Debra also consults and collaborates with fellow artists on honeybee-related projects (email her for more information about this). She resides in the mountains of Western North Carolina with her husband Joe, cat Habla, and millions of honeybees.
You can meet her at these links:
Debra can be contacted to speak , teach or mentor at: debra@holybeepress.com or (828) 712-0880.
SPEAKING ENGAGEMENTS and WORKSHOPS