ABOUT DEBRA ROBERTS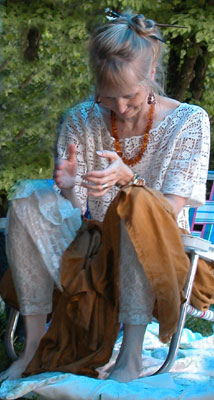 Debra Roberts is a Master Beekeeper, Natural Beekeeping educator, speaker, mentor and writer. She consults and collaborates with other artists on honeybee-related projects and mentors new beekeepers in their yards, by email, Skype and phone. She speaks on subjects like:
Natural beekeeping (from nuts and bolts to the path itself);
Women and beekeeping; women's ways in the apiary;
Beekeeping as a sacred practice;
Why beekeeping makes us better people;
Modern pollination practices and the stress on bees;
Bees and consciousness.
She is Vice President of The Center for Honeybee Research, designer and coordinator for Ashevillage Institute's Bee City USA Bee Immersions, on the Steering Committee of Bee City USA, Founder of The Honeybee Project, a bee mentor for Hamaatsa (an indigenous learning center in New Mexico), editor of a series of ongoing articles about honeybees and natural beekeeping, and is currently writing two books.  She is also a remote faculty member of The College of the Melissae: Center for Sacred Beekeeping in Ashland, Oregon. In 2011, she birthed Holy Bee Press. Debra considers herself to be kept by her bees … and is generally bee-sotted.
You can meet her at these links:
Debra can be contacted to speak or teach at: debra@holybeepress.com or (828) 712-0880.
SPEAKING ENGAGEMENTS and WORKSHOPS