RESUME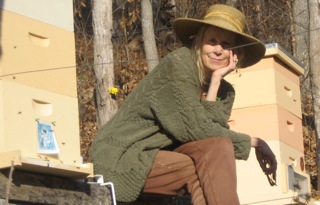 CREATOR of The Sacred Path of Bee, an online series for bee appreciators world-wide.
NATURAL / COMPASSIONATE BEEKEEPING EDUCATOR: International speaker and teacher, honeybee advocate; natural beekeeping workshops around the US and abroad, including Organic Grower's School and WNC Bee School (Asheville, NC); O.L.E (Outdoor Learning Environment annual gathering for teachers); various bee clubs and associations, retreat centers, conferences, festivals, summer camps, and schools (elementary through university). Has educated thousands of children and adults over the years about honeybees, natural compassionate bee stewarding, and sacred relationship with bees.
NATURAL BEEKEEPING MENTOR:  Regional (Western NC), national and international.
SPEAKER:  Natural compassionate beekeeping (all aspects / nuts and bolts), wisdom from the bee yard, women and beekeeping, beekeeping as a sacred practice, why bees make us better people, successful urban beekeeping, modern pollination practices and the stress on bees, and bees and consciousness. Technicians of the Sacred: The Awakening of the Ancient Bee Priestesses in Contemporary Bee Sanctuaries with Layne Redmond. The Spirit of Bee with pueblo elder, Larry Littlebird of Hamaatsa.
MASTER BEEKEEPER:  The NC Master Beekeeper Program
ADVISORY BOARD, The Center for Honeybee Research: A non-profit serving national beekeeping research in the U.S.
BEE LUMINARY (2015)
FOUNDER FACULTY of The College of the Melissae: Center for Sacred Beekeeping in Ashland, Oregon (ongoing).
RECIPIENT OF THE WNC AgGrant (2009)
STEERING COMMITTEE, Bee City USA.
CONSULTANT / COLLABORATOR with other artists on honeybee-related projects:  Kaylynn Sullivan TwoTrees (Descansos for the Bees), Jenny Lynn McNutt (in-hive wax sculpture), and Layne Redmond (bees recorded for the soundtrack of Layne's CD, Hymns From the Hive); The Sacred Path of the Bee (workshops, webinar with Layne Redmond); inspiration for the Heritage Eco Bubuyog (bee) Bangle for the Benitez Collection.
PRODUCER:  The Honeybee Fly Around Song (a honeybee music video for children) and the Bee Loving Hussies postcards – both products available at Holy Bee Press.
HERO OF ASHEVILLE (2014).
DESIGNER: Ashevillage Institute's Bee City USA Bee Immersion programs.
WRITER:  Published in various journals and magazines, including The American Bee Journal and WNC Woman magazine.  Is currently writing a book and producing a series of articles on honeybees (published by Holy Bee Press).
APIARY INSPECTOR for the Certified Naturally Grown Program:  An organization that is creating standards in the U.S. for natural beekeeping practices and products.
MEMBER:  Buncombe County Beekeepers Chapter and NC State Beekeepers Association.
SELECTED to attend the Born and Bred in NC: Queen rearing and genetics workshops in 2010 designed to encourage more regional queen rearing.
Debra is also: Founder of Little Pearls, a non-profit that makes tiny films that open hearts and minds; a documentary film maker and owner of Heron Productions LLC.