WELCOME TO HOLY BEE PRESS!  We are a crossroads of honeybee conversation and world bee salon.  You'll find some wonderful articles and bee-ish products here … and books will follow later this year. Please join this bee-appreciative community by subscribing to our email list in the right hand column of this page.  And invite friends and family who are similarly inclined.
For anyone entertaining becoming a beekeeper or just simply swimming in the sea of honeybee appreciation, prepare to fall in love … and for generosity and gratefulness to well up and out of you so overwhelmingly that you feel like life is pouring a libation through you.  Prepare to feel like dying of sadness the first time a hive crosses over because of ill health, and then let your heart break … open.  Start finding a thousand ways to say thank you for all the blessings that being around bees will bring you … because thank you in itself will never feel adequate.  And prepare to fall in love with yourself and all life more than you ever thought possible … for the bees will bring you Home.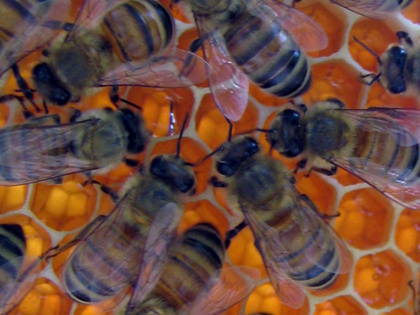 I want to thank Julie Parker of Handwoven Webs for her divine stewardship in co-creating the face and form of this blessed website and blog.  She is the bees' knees to work with.  I am also eternally grateful to Clare Melinsky, way over there in Scotland, for the honeybee lino-cut that graces our banner.  Visit her website to see more of her work.  I have been a fan of hers for years.  Both of these women are two of the great lights of my life.
Blessed bee.  Blessed bees.